Connecting the dots: Business and Development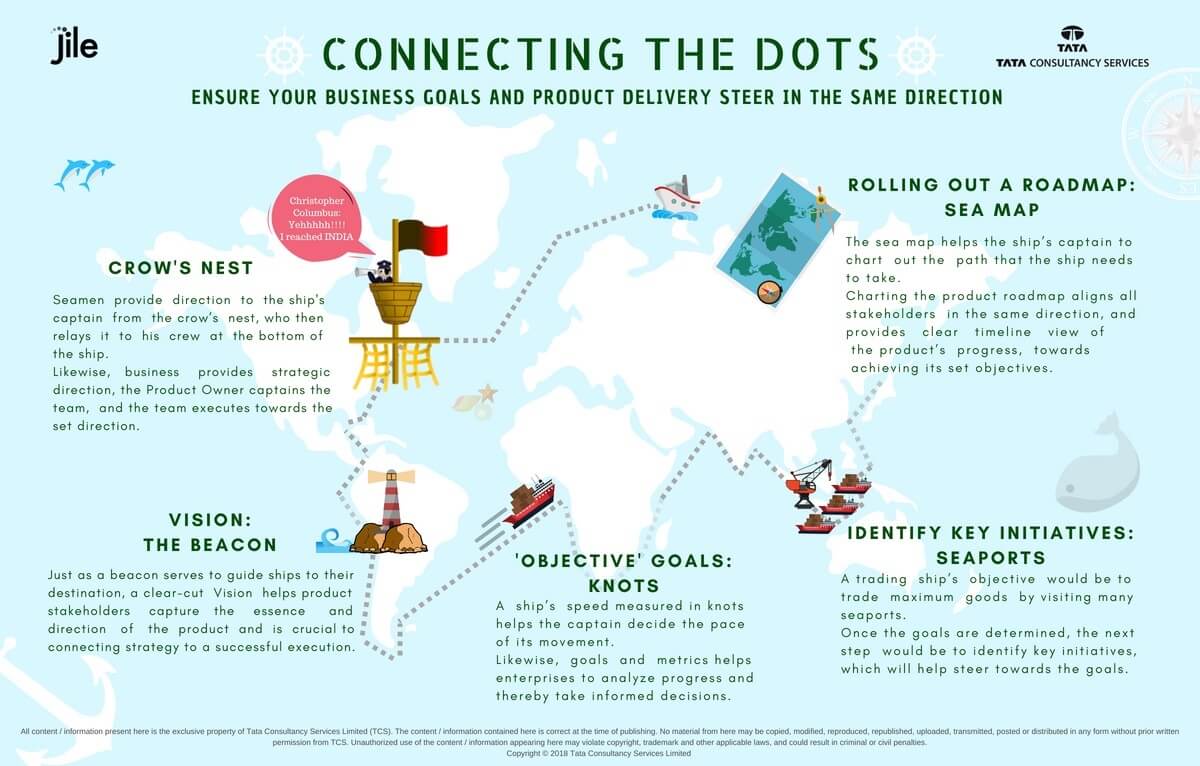 Crow's Nest
Before the sophisticated marine systems were born, ships had to rely solely on the acutely keen eyesight of their seamen to steer them towards their destination. Few seamen would be perched up on a tall post, also called the crow's nest, and provide direction to the ship's captain, who then relayed it to his crew at the bottom of the ship. This is very similar to how many enterprises function today. The business provides strategic vision and direction from the top, the Product Owner captains the team, and the team executes the activity assigned to them. Unfortunately, not many enterprises are as aligned as the seamen were and end up docked at the wrong port. The solution to this problem lies in formulating the Vision, Goal, Product Roadmap and Initiatives for product development, so that all can steer in the same direction.
Vision: The Beacon
Just as a beacon serves to guide ships to their destination, a clear-cut Vision helps all the stakeholders, including Product Owners, Scrum Masters, and Development teams capture the essence of the product and serve as a reference for constructing work items (Initiatives, Features, and Stories). Translating vision to these work items is key to connecting strategy to execution. Vision board by Roman Pichler is a good start that helps teams capture a vision for their product. Vision board serves to capture the following in detail
Market segment and target user group
Needs that the product fulfils
USPs of the product
Business goals that the product should deliver
'Objective' Goals: Knots
Goals and metrics define a measurable future state. In large enterprises with multiple teams, strategic goals give direction to smaller programs, which can be sub-divided, in line with multiple levels of organization. For example, a trading ship's objective would be to trade goods worth $1 million and visit 50 seaports. Speaking of metrics, the speed of ships those days were measured in knots! There are some popular frameworks, which help in defining and measuring goals. One such is Objective and Key Results (OKR). It serves to connect enterprise, team, and personal objectives in a hierarchical way to achieve measurable results, helping steer the ship in the right direction.
Key benefits of aligning strategy with execution
Improved Agility - Anticipate market trends and quickly respond
Development teams contribute to corporate vision - tightly coupled with organizational objectives
IT teams speak language of business - they tend to contribute more if they understand the business importance

Identify Key Initiatives: Seaports
Once the vision is set and the goals are determined, the next step would be to identify key initiatives. Enterprise Agile framework SAFe® defines the initiative as a large work item, which requires analysis and definition of a minimum viable product (MVP) prior to implementation. This implementation takes place over multiple iterations. The portfolio owner decides the constitution of teams that would be part of this initiative. The initiative is then broken down into various levels of work items and planned with different timelines for execution. This flow of work items and execution that is planned and charted out forms the product roadmap.
Rolling out a roadmap: Sea map
Defining a product roadmap is of paramount importance:
to get all stakeholders on board and get the budget approved for the product
to provide a timeline view of the teams progress towards achieving their goals
to function as a valuable sales tool
"The world is changing very fast. Big will not beat small anymore. It will be fast beating the slow." - Rupert Murdoch, Chairman of Fox News Channel
Just like a coordinated sea crew responds to calamities in the sea, a business strategy well aligned with product development anticipates market trends better and responds quickly to changing requirements. This helps enterprises stay on the fast lane and stay relevant. To see how small teams can scale their agile adoption enterprise-wide, read the article 'Five Powerful Enterprise Agile Frameworks'.
Thanks for subscribing to our latest blogs, thought leadership and other product updates!
Like what you read? Subscribe to the latest blogs, whitepapers, articles and many more!
Read our Privacy Policy to know more. You can opt-out of all communications anytime.