The Ultimate Guide to Agile Product Management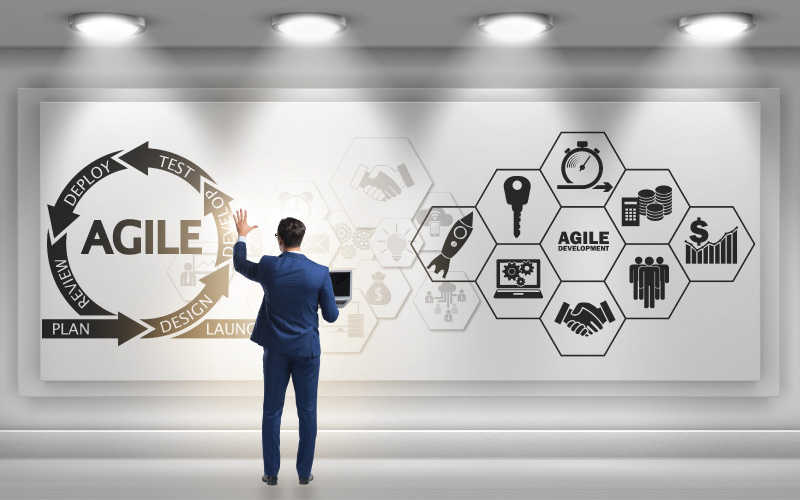 Agile product management helps organizations manage their product development projects in a better way. Let's learn the basics of agile product management.
Introduction
The agile product management process can be described as combining various techniques with the Agile process to create products. It is based on concepts of agile product development combined with traditional product management techniques.
So, instead of using long-term projects to develop a product, they can convert them into shorter development cycles. The purpose of this blog is to briefly review the principles, pros and cons of agile product development.
Agile Product Management: What is it?
An agile product management process uses an agile environment for product management. A product strategy is set up, and a product roadmap is created within an agile environment to create a strategy for the product.
The purpose of it is to encourage a more adaptive approach to the planning and implementation of products so that organizations can quickly respond to feedback and create products that satisfy customers.
There is no question that agile product management has its origins in the widely used agile methodologies for software development, such as scrum and kanban. There is a strong emphasis on evolutionary development, continuous improvement, and early delivery with these methods.
Agile Product Management: Practices and Principles
As you get to know the agile product development techniques, you need to make use of agile product management software. As a product manager, working in an agile environment requires a high level of flexibility on the individual's part. In order to facilitate the process of developing an agile product, the following principles and practices can help:
Setting up the correct product strategy

A product is a vision that is needed to be launched in a long-term direction that will be paved in an agile environment, which requires one to set up a strategy that will help with lean product management and development.

During the development of the new product, the product managers work under the direction of the product development team, and they are responsible for setting the product's long-term vision.

Working closely with the client is one of the best ways to help provide your product with the right direction it needs to be in. The developers will be able to work with the proper market research, ensuring that the business's overall objectives are aligned with the developers' work.


Understanding the needs of the customer

Customer requirements need to be taken into account when designing the product. In order to develop a product that meets customers' needs, it is important to let them set the product's main goal. Customers expect the product to be delivered as soon as possible. To get what a client needs, one must also consider their feedback and adjust accordingly to get what they want.


Developing a roadmap

There are many things that need to be considered when developing a program, and one of them is having a roadmap that defines the program's strategic plan and the purpose of the product that is to be developed. Ideally, the product development commitments should be set either on a monthly or weekly basis. Ultimately, an agile roadmap planning will lead to the achievement of the short-term goal of putting the product to work.


Putting the product's features first

The most important aspect of agile product management is that the product being developed needs to be prioritized when working towards it. This will help the developer know what needs to be built and when it needs to be built.
Working in an Agile Environment: Roles and Responsibilities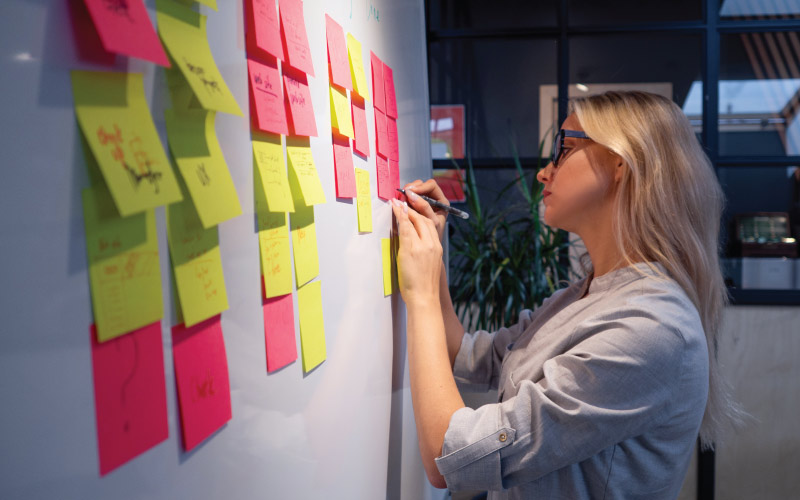 You will be introduced to a variety of roles when you begin to work according to the agile product development methodology. As you embark on your journey towards agile product management, you will come across the following important roles and responsibilities that you need to be aware of.
Development team

As soon as the idea for the product is developed, the development team gets to work on making it a reality. A group of developers is responsible for planning, designing, and implementing the strategies for creating the final product or feature for the client. The development team works in sprints as part of agile PLM, which oversees the development process.

It is their responsibility to create the product, ensure that it has a proper functional design, and verify the features after receiving feedback from customers for each sprint. As well as coordinating with stakeholders, they also make sure that the product is aligned with the business objectives and that everyone is pleased with the result.


Stakeholders

A stakeholder is an individual or a group of individuals affected by or interested in the business or any business activity. During agile product development lifecycle, stakeholders meet for a brief period in order to go over decisions, review them, and make any necessary changes to them. As well as being crucial stakeholders, customers are also crucial to the development of the product because they provide feedback on the MVP on a consistent basis.


Scrum master

In scrum teams, scrum masters are appointed specifically to handle communication and updates with the employees, and their function is to ensure that the team adheres to scrum practices. Additionally, they assist product owners in many other ways, including explaining the capabilities, progress, and potential roadblocks they may face while working with the scrum team.

The role of the scrum master is to assist self-organizing teams in implementing the methodology more effectively.

When you decide to move to agile product management, you will be able to manage your team better and be better equipped to deal with challenges as you shift to the agile approach.


Product owner

In scrum teams, product owners translate customer needs into user stories and features, refine the product backlog and ensure cross-functional alignment.

Product owners have a more defined role than product managers, who manage the entire product development process.

It is the responsibility of a safe product owner to maximize efficiency by minimizing the time taken for output, developing the product backlog, revising, and managing the product backlog, and prioritizing the functionality of products.
Agile Product Lifecycle: What is it?
An agile product lifecycle refers to a series of stages that take place between the time when a product is developed and the release of the product. It also contains guidelines, which will be helpful to continue the process of developing the product in the future. In addition, this will help you know what type of products can be successful in the market and which ones are most likely to succeed.
Introduction

In the agile product lifecycle, this is the first stage of the process. The first introduction of the product to the market occurs during this stage. In this stage of the development process, the product's first version is introduced to the market for the first time. A product is first introduced to the customer at this stage of the product development process. In this stage, there is a possibility that various issues and bugs will be fixed over time as the product develops.


Growth

Several versions of the product are introduced into the market during this stage. Whenever we talk about a phone company, they will launch a variety of phones while also providing phones that meet market standards in order to compete against various other products in the same price range that are available on the market.


Maturity

As a result of this phase, your product will be easily accessible to the customers. There is already a clear understanding between customers and what they are buying. There are a number of competitors in this phase who will try to find your product's loopholes to be able to get to your market so that they can gain your market share. During this stage, it is crucial that you fix any bug that can be targeted against you by your competitors (even the smallest ones).


Decline

At this stage, you will be able to determine which products are making you money on the market and which are not. You're required to cut out the products that are not making enough sales or are not making enough profit during this stage and instead focus on those that are able to do so.
Agile Product Management: Pros
Increased customer satisfaction: As one of the four core values, collaboration with the client is essential during the process. This ensures a higher level of satisfaction and productivity. It is transparent in showing customers a testable working product at the start of the project and providing them with information throughout the whole process. At the end of the project, it is also possible to reject the work that has been done, preventing disapproval.


The better the product, the less risk there is: For a project to be secure and less likely to be damaged, it should be able to change its course of action and adapt to changes. The whole process was based on forecasted conditions in traditional methodologies. It is important to change priorities based on present conditions and implement feedback during the development process.


Team happiness and better working conditions: When you are autonomous, granting your team members freedom, trust, and support, you create a much better working environment for everyone. The decision-making processes and organizational arrangements are benefited from the fact that they have a voice in the decision-making processes.

There is a better sense of belonging and motivation among the workers, which fosters a more creative and efficient working environment among the team members.
Agile Product Management: Cons
Human factors play a crucial role in agile: There is no doubt that an agile project will succeed when the team members have a wide range of skill sets and a strong sense of engagement.

The agile human-centered approach and flexibility makes it vulnerable to incompetence within the team due to its human-centered approach that enables quick decision-making and the technical skills that its members need to fulfill their jobs. Making poor decisions or failing to keep up with the team's tasks can result in the project coming to a halt.


If you aren't careful, your project can get off track: It is possible that the team will lose sight of the original purpose of the project if they are unable to break down the project and alter direction after each milestone. Getting lost in a tangent is one of the easiest ways to lose time and reduce the efficiency of your work.

A classic structured project management approach can provide a great deal of value to some straightforward projects. There are many different types of projects, businesses, and industries, and agile isn't a solution for everyone.
Conclusion
In this sense, agile product development methodology can be defined as the process of creating products. By following this guide, you will learn more about what is involved in the development of an agile product, and you will be able to use a variety of agile methods to speed up the process. You will also be able to get accustomed to agile product lifecycle management as a result of it.
Thanks for subscribing to our latest blogs, thought leadership and other product updates!
Like what you read? Subscribe to the latest blogs, whitepapers, articles and many more!
Read our Privacy Policy to know more. You can opt-out of all communications anytime.