Product Management vs. Project Management - A Complete Guide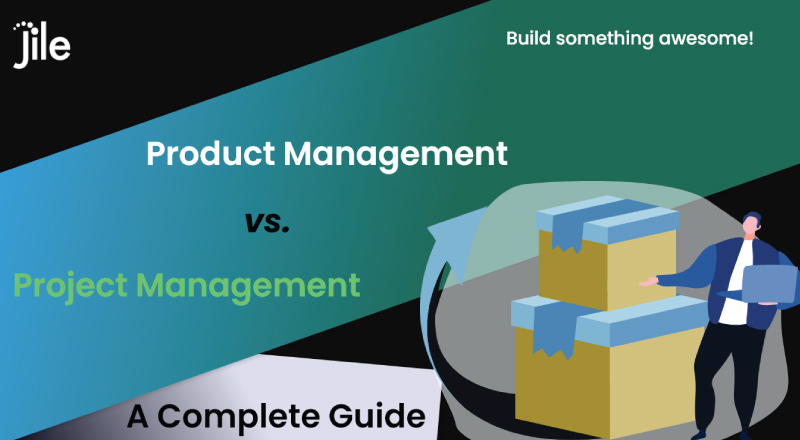 Innovation in technology has greatly simplified our lives and the way we work. However, levelling the playing field has made the world of business extremely competitive. Without going the extra mile to set effective strategies for managing a business, the question of sustainability and survival goes unanswered.
This is where Product Management and Project Management come in. Considering their complementary nature, each of these terms is used interchangeably though they play a distinct role that distinguishes them from the other. This article discusses product management vs. project management at length.
Let's understand the concept of products and projects at length.
Projects vs. Products
It is highly imperative to understand the definitions of products and projects to gain an in-depth understanding of project management vs. product management.
A product can be defined as any physical object that is offered on the market to satisfy the wants or needs of a customer or a group of customers. Ideally, all products undergo the development process before they can be launched in the market.
The product development process can be different for every organisation. However, the standard product development process includes:
Idea generation – By brainstorming concepts based on consumer needs, market trends and other factors, a rough concept for a product is created. At this stage, it is not about coming up with a concept that is ready to be implemented right away. General customer issues and feedback are addressed to try and come up with something new. Taking note of the target market, competing products, and intended use are all factors that help to refine and develop the product concept.
Defining the product – Once the target market and the product usage have been identified, the product concept can be further chalked out. This stage is mostly concerned with fleshing out the details and specifics. Business analysis is conducted to develop the product roadmap and finalise product USPs.
Creating prototypes – Developing prototypes often involves trying out several iterations of the product with a holistic view to create a finished product that is geared towards the end customer expectations and is ready for mass production. Organisations can undertake market risk research to find out whether any risks are associated with the product prior to delving into its development. A minimum viable product (MVP) is the result of the prototyping stage.
Sourcing – This phase involves securing funds, materials and other resources that are required to carry out production. Connecting with stakeholders to ensure that approvals are met and all information regarding the product development is communicated to maintain transparency. Constructive feedback is received to make adjustments and fixes.
Testing – Issues that arise during the development phase have to be ironed out. Beta testers are hired to provide reports on the functionality of the product. The marketing plan aims at vetting the campaign set-up and the readiness to launch.
Product launch – This phase involves commercialising the product concept once the design is finalised and sent through quality control. Coming up with an effective brand strategy is very important since it has everything to do with the success of the product in the market. Generating interest among the public widens the potential customer base, which in turn improves the profitability of the product.
A project is a set of tasks that need to be completed to attain certain desired results. Projects are time-based and have a start and an end date. Projects require a lot of planning and strategizing. The project management lifecycle includes five distinct phases:
Initiation – A broad overview of the project, along with strategies to be employed, is determined. The feasibility and business value of the project are determined through different kinds of analysis and studies. Ultimately, the potential stakeholders and the scope of the project are identified.
Planning – Once the exact objectives of the project are determined, a detailed project plan is created. This is the most complicated phase, as each step of the project has to be determined and carefully accounted for. The budget is determined while anticipating potential risks that could be encountered along the way.
Execution – This phase involves assigning tasks and allocating resources for the project. Satisfying customer demands and queries, along with building deliverables, is done. Communication between project team members, upper management and clients is a continuous process. Stakeholders are kept in the loop.
Monitoring and control – Measurement of progress and performance is carried out in this phase. Directing the individual efforts of everyone working on the project towards achieving the goals is initiated.
Closure – Once the goals and objectives are met, steps towards concluding the project are taken. All processes relating to the product release and delivery are wrapped up. The closure is also done in case the project fails. It also includes analysis of team and project performance, along with conducting post-implementation reviews.
Let's explore the difference between project and product management.
Differences between Product Management and Project Management
Product management revolves around the processes of planning, forecasting, and marketing a product or service throughout all the stages of the product life cycle. On the other hand, project management focuses holistically on the achievement of the specific goals outlined by implementing methods, processes, knowledge, and experience.
Product management teams and professionals tend to require extreme flexibility, technical expertise in particular disciplines and need to have industry-specific backgrounds.
Unlike a project, the development of a product is not a temporary endeavour. It evolves and adapts to the user's needs to prove its utility and avoid becoming obsolete. Product development is an iterative process and can include several projects that aim to maintain, improve, or diversify it.
By understanding the roles played by product managers and project managers, we can explore the comparison between product and project management.
Project Manager vs. Product Manager
Although it may seem like there are overlapping functions between product and project managers, the processes overseen by each are quite different from those managed by the other. They also differ in terms of function within an organisation. The key differences between them:
Product managers are primarily involved with running the processes of the product life cycle. They determine and handle the overall product direction until the product is removed from the market.
Project managers are entrusted with the successful delivery of a project within a specific deadline and budget, following a product roadmap.
The responsibilities of a product manager are:
Identifying crucial KPIs for ensuring product viability
Attaining an in-depth understanding of consumer needs and desires
Defining the features of the potential product and creating a plan of action for the product development.
Since products do not have a list of specific targets, product managers need not come from a specific background. Product managers need to be able to adapt to new challenges and possess hard skills that they need to develop by learning things throughout the product development process.
The responsibilities of a project manager are:
Identify and understand the purpose of the project and the available budget, and set a time frame
Guide the project team to stay on track for time-sensitive deliveries
Establish extensive communication with the top-level management
Attainment of the desired results of a specific project by leveraging methods, processes, knowledge, and experience
The need of the moment for project managers is to be efficient and adopt an approach which is systematic to schedule and manage projects.
Similarities between Product Management and Project Management
While we are delving deeper into the concept of project vs. product management, it is also important to consider the similarities.
Let's explore where product and project management overlap in terms of features and functions:
Both product and project management require proficient skills in planning, organising, decision-making and designing solutions.
Product and project managers have to be equally exceptional at managing and allocating resources, meeting deadlines and adhering to schedules and sticking to the budget.
Product and project management have a very wide scope. Both of them are applicable to a versatile range of industries and sectors.
Managers in both fields have to be effective leaders and motivate their respective teams.
Product and Project Management Software
To ensure that they stay effective and efficient at all times, project and product development teams need to employ advanced tools and technologies.
Project management software helps project managers control their costs and meet deadlines. It helps project development teams deliver the projects they commit to. It even helps them track payments as well as the time elapsed on specific tasks.
Product managers can benefit from the product management software in several ways. These software assist them in setting product strategy and building feature-rich prototypes as per the business need in a robust, seamless, and efficient manner.
Conclusion
Although we like to say product management vs. project management, the two clearly have many similarities while differing in some key areas. Project management has more to do with internal organisational issues, logistics, meeting deadlines, setting budgets, and more. Product management is related to the processes of the product development cycle. It involves creativity, interpreting customer needs, identifying market trends, and dealing with other external factors.
The processes of project management and product management go hand-in-hand, and both are vital to successfully running any organisation, irrespective of the industry type.
Thanks for subscribing to our latest blogs, thought leadership and other product updates!
Like what you read? Subscribe to the latest blogs, whitepapers, articles and many more!
Read our Privacy Policy to know more. You can opt-out of all communications anytime.