Working with Distributed Agile Teams in Pandemic Times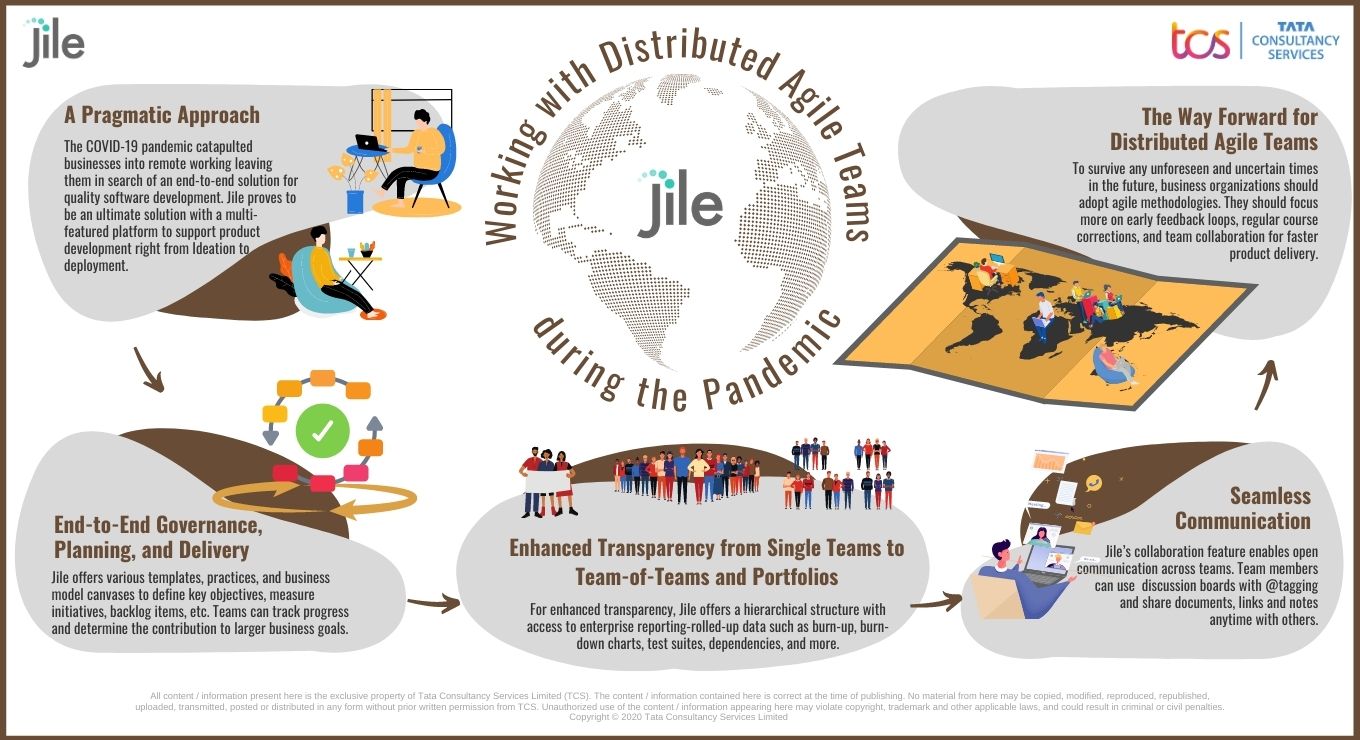 COVID-19 is changing the way we work. Business and operating models are becoming more agile.
Everything has come under scrutiny-from where and how employees work, to how they collaborate and engage with client feedback. Which products were most competitive. And which development practices could be quickly adapted.
Agile teams, in contrast to other functional units in organizations, were well equipped to adapt to changing business priorities during this pandemic. They quickly gravitated towards remote and distributed agile, which helped them achieve flexibility, efficiency, and scale.
A Pragmatic Approach
When the pandemic hit business operations, most organizations analyzed how scrum teams were being impacted globally. This helped them identify issues and challenges for different delivery personas. Soon, they adapted and made changes to their existing operating models to be able to operate effectively in a fully remote model.
In addition, organizations proactively modified their IT assets to operate better in a fully remote model. To ensure efficiency in the software development lifecycle, they took steps to maintain end-to-end visibility of progress, quality of delivery and team productivity; and managed standard agile environments. This also included adopting automated DevOps, eliminating waste, and using metrics to measure the progress of objectives at different stages of the development process.
However, most organizations, in their attempts to mitigate risks and ensure efficiency, ended up delaying product delivery. They are now in need of an end-to-end solution that can help accelerate agile development and delivery lifecycle in distributed environments, while ensuring optimum efficacy and security.
Let's take a look at how distributed teams can optimize their workflows.
End-to-End Governance, Planning and Delivery
Ideally, distributed agile teams need to adopt robust methods and practices, and scale them across their organization. They should ensure end-to-end governance and visibility through all stages of product development. When it comes to strategy, for instance, teams must be aligned with their organization's strategic intent. They should follow the long term direction which their organization (or a portfolio) takes in order to achieve its business goals.
Within Jile, agile teams can define key objectives. Using a brief title, description and a set of key metrics that help define their goals with quantifiable parameters. One or more initiatives and associated product backlog can be identified to achieve each objective. Teams can also measure initiatives and other backlog items associated with the objectives. These are planned and delivered as part of multiple release and iteration schedules. Business and product management teams can continuously log results against key metrics and determine if the delivered items help achieve their larger goal.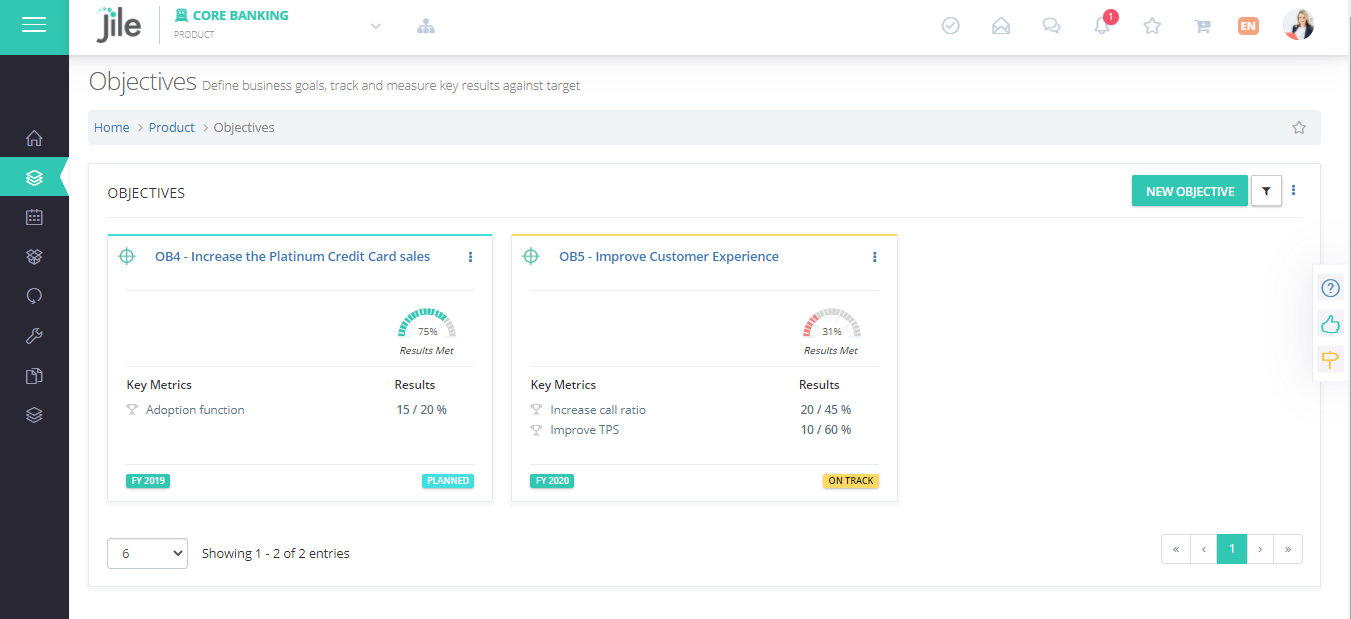 Define Objectives and OKR metrics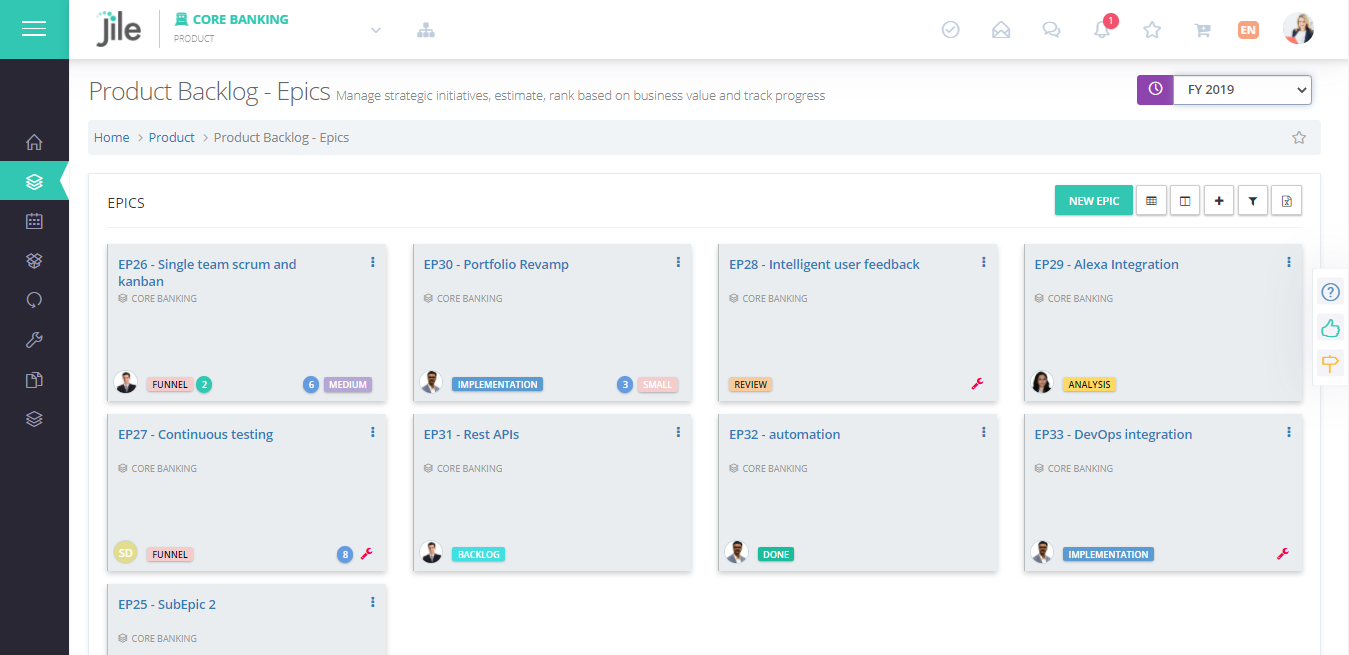 Define and Measure Key Initiatives
In addition to this, teams can make use of Jile's practices and templates. Such as its product vision board that helps describe, visualize, and validate their product strategy in the form of a visual canvas. Similarly, Jile's business model canvas helps teams document the business model of an enterprise using lean canvas. In addition to this, teams can define and track a set of product and business objectives using Jile's OKR (Objectives and Key Results) framework, which helps manage the list of the product's key initiatives.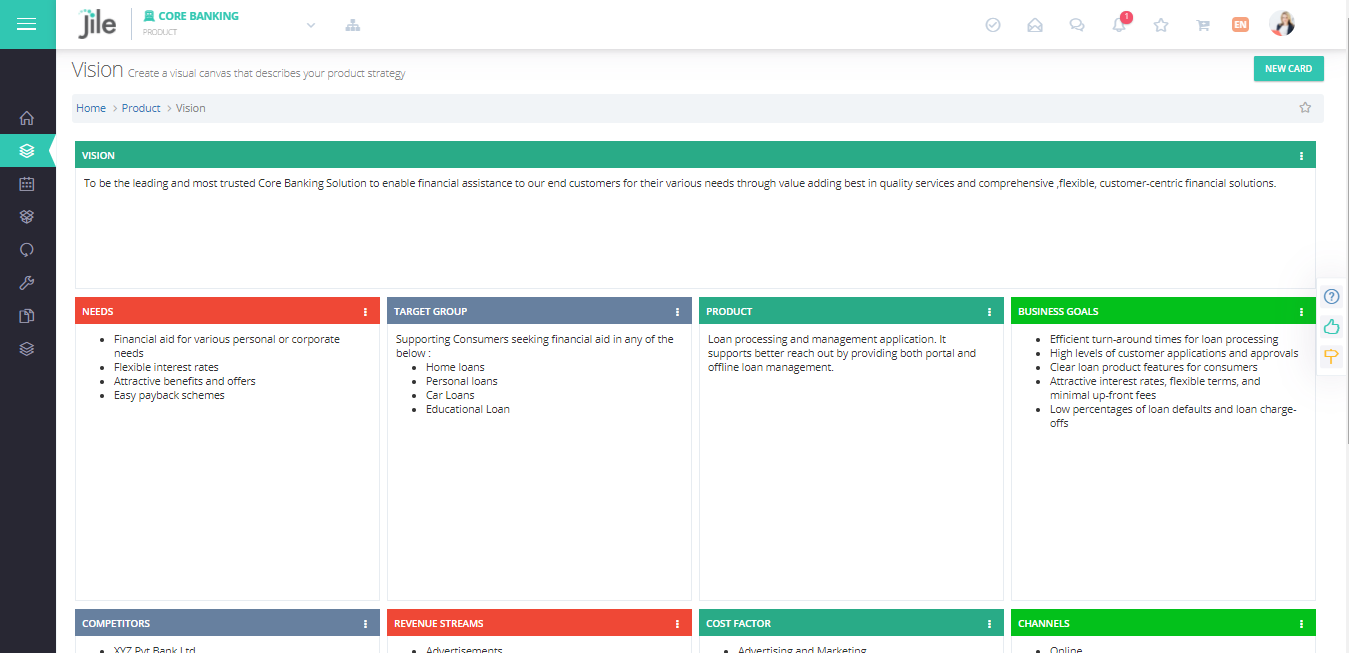 Use Visual Canvas to define portfolio and product vision
For seamless agile planning, Jile offers time-box and flow-based planning models. Teams get to define, plan releases and iterations and deliver in those schedules..
Seamless Communication
Open and impactful communication is vital for distributed agile teams where employees set their own work hours. Frequent conversations and cafeteria chats aren't possible in a remote world. This calls for the need for implementing digital equivalents of these social activities.
Jile's collaboration feature enables seamless communication between employees at every level-team, product, and portfolio. Employees can use discussion boards with @tagging. Moreover, just like any other collaboration platform, they can refer to and share documents, links, and notes with their colleagues at any time.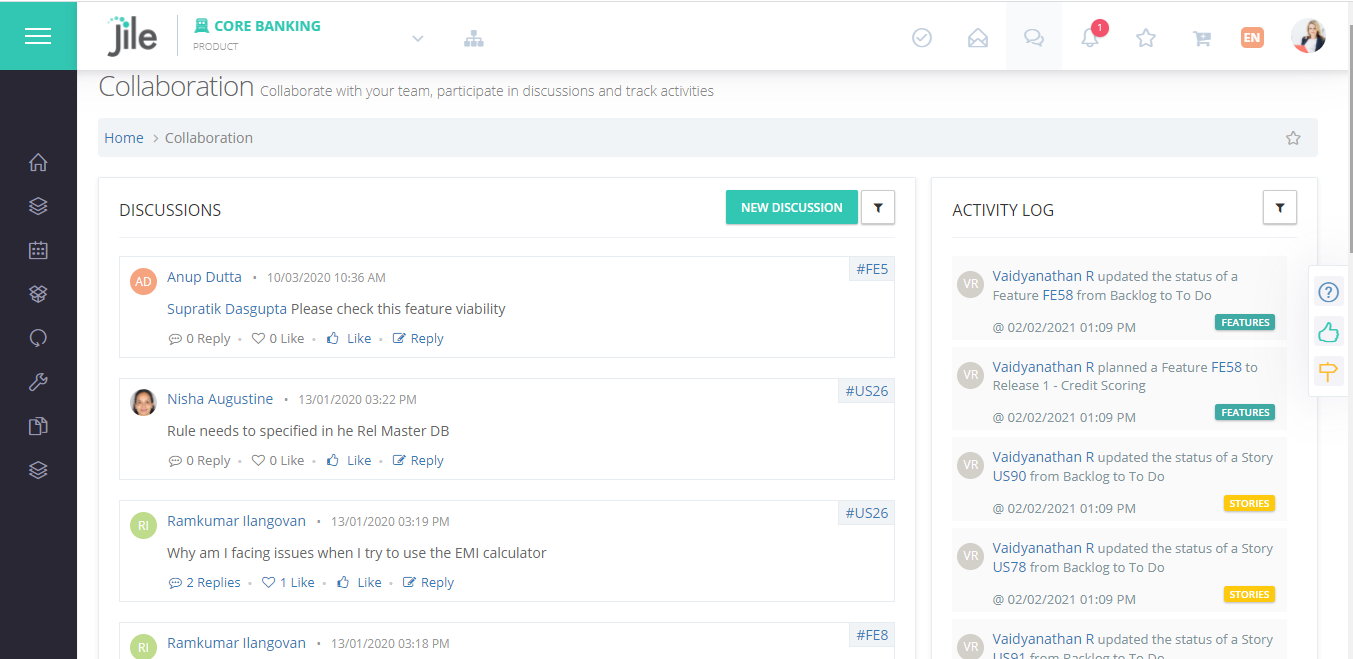 Collaboration platform with @tagging, refer documents, link notes
Enhanced Transparency-from Single Teams to Team-of-Teams and Portfolios
End-to-end visibility holds the key to a seamless flow of operations. Organizations need to ensure enhanced transparency across all hierarchical levels. Even execution teams, for instance, must be aware of their enterprise's vision, portfolio goals, and the objectives/outcomes that they are trying to achieve. Teams should be able to plan and deliver in synchronized release and iteration schedules.

Jile helps create a model of the organization's structure by representing various business units, portfolios, and product groups. Through multi-level backlog management, the platform offers scrum boards for teams, program/feature boards for multiple team-of-teams, and epic/initiative boards for portfolios. The executive layer (or business stakeholders) are aware of the downstream operations through dashboards available at team, program, and portfolio levels. They have access to enterprise reporting-rolled-up data such as burn-up, burn-down charts, test suites, dependencies, and more.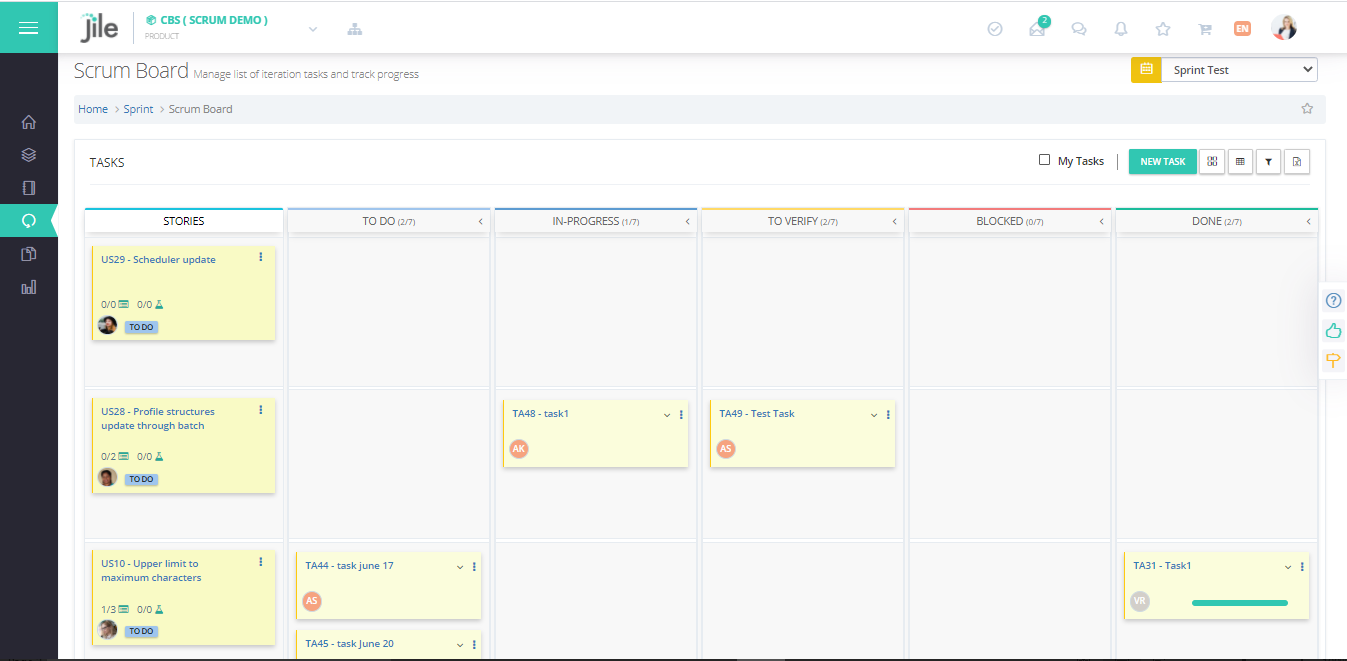 Scrum boards for teams, multiple team-of-teams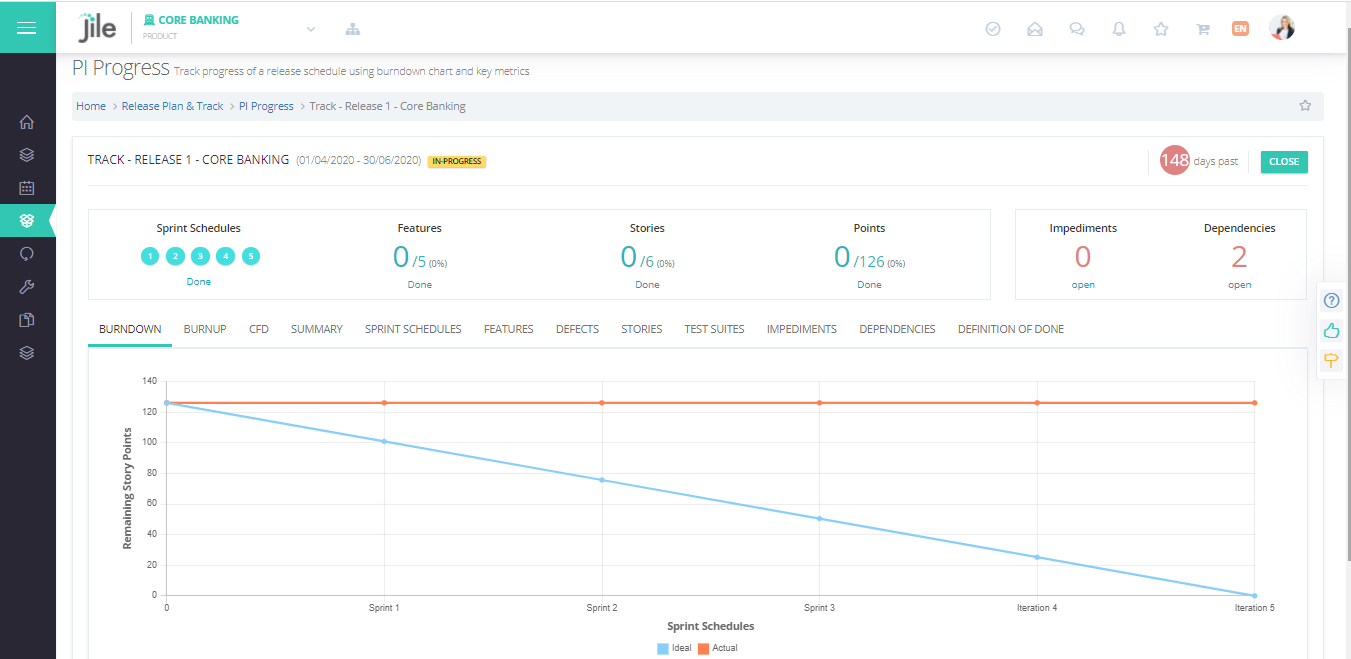 Enterprise reporting dashboards using burn-up, burn-down charts
The Way Ahead for Distributed Agile
Even after this pandemic is long gone, organizations are less likely to go back to co-located models. Businesses operating in the new normal should consider agile solutions that seamlessly integrate in distributed environments. They must adopt a shift in mindset. With a focus on people, early feedback loops, regular course corrections, seamless communication, and team collaboration are the key drivers for agile delivery.
Using agile solutions such as Jile, in distributed environments, organizations can help teams work and collaborate faster and more efficiently. They will be able to navigate smoothly and consistently in uncertain times like this one.
Thanks for subscribing to our latest blogs, thought leadership and other product updates!
Like what you read? Subscribe to the latest blogs, whitepapers, articles and many more!
Read our Privacy Policy to know more. You can opt-out of all communications anytime.