Using Agile in Marketing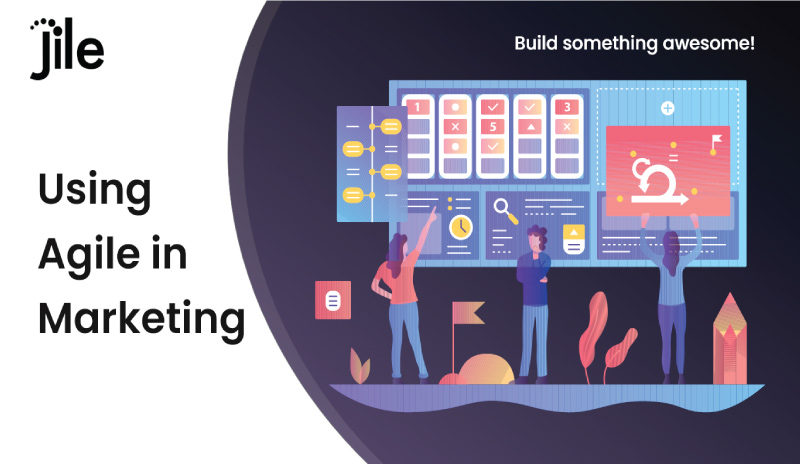 Introduction
The importance of marketing in the business world should never be underestimated. Marketers need to go beyond the call of duty to ensure that their organizations receive enough recognition to make the final cut. Businesses can leverage the tools, technology, and resources available today and harness the ultimate potential of marketing to drive value.
Agile methodologies have revolutionized the technology sector, especially with software development. Agile helps software development teams thrive by breaking down work into smaller, palatable tasks, gathering continuous feedback, and nurturing flexibility. Given the success of this approach, other industries have incorporated agile practices into their processes, including marketing.
Marketing leaders and strategists have been applying agile marketing frameworks to deliver actionable insights to senior management. This enables them to make well-informed decisions. The agile marketing management approach is meant to grant organizations a degree of flexibility and adaptability while prioritizing continuous delivery and customer satisfaction. Agile marketing tools enable strategists to be more effective by improving the quality of work. Managers can be more efficient, effectively utilize resources and balance their teams better.
What is Agile Marketing?
The term "Agile Marketing" is thrown around so often that pinpointing its exact definition can be a challenge. While subject experts and marketers attempt to get to the bottom of it for all intents and purposes, it is more of a mindset than anything else in the context of marketing. Agile in marketing aims to facilitate growth by harnessing team efforts that allow organizations to deliver value to the end customer.
Expert marketing skills empower an agile marketing management team to accomplish a higher percentage of the work independently, engage its members onto projects that are lagging behind, and holistically be more productive.
Agile demands a high level of collaboration. For agile in marketing, this involves elevating the importance of collaborating with sales teams, customer insights experts, and partners to carve highly relevant positioning, content, and customer acquisition, engagement, and retention programs. Breaking programs down into smaller prioritized tasks, and to facilitate focusing your team's attention on the most urgent needs of the business is at the core of agile marketing. The challenge is to remain nimble enough to quickly change direction if needed.
A Brief History of Agile Marketing
In 2012, a group of progressive thinkers came together to formulate a document that aimed to guide the future of modern marketing. Going by the name Sprint Zero, this gathering of marketing geniuses discussed the concepts of agile marketing in depth. The ultimate goal was to establish a set of core values and principles to illuminate the way forward.
The outcome of this historic meeting was the insightful Agile Marketing Manifesto. The Agile Marketing Manifesto is composed of modified Agile principles that are marketing-specific while maintaining relevance to the modern business environment.
The initial argument for agile marketing principles was that marketers needed to come up with a clear way to:
Improve Productivity - Agile organizations prefer nuclear, cross-functional teams that are capable of finishing projects autonomously without requiring constant follow-ups and progress checks. Instead of grouping individuals by their function in the enterprise, this allows teams to cycle rapidly through work items without stalling out due to dependencies and hindrances.
Create Transparency – Transparency is precisely what holds agile teams accountable. It helps them develop a mutual understanding of all the projects that are in the pipeline. Transparency in agile also extends to customer interactions as agile teams leverage frequent client feedback. This helps them to improve their deliveries driven by feedback-led insights.
Drive Success through Data – Agile emphasizes the importance of experimentation. This means that marketing teams need to align marketing campaigns with data to measure success. Teams should collect relevant KPIs from low-risk experiments that influence each campaign before its final release. Additionally, they must also monitor team efficiency by collecting metrics from their processes.
As the benefits of agile marketing principles were undeniable in the marketing world, the relevance of the Agile Marketing Manifesto began to gain traction.
Still, many people wonder why Agile marketing hasn't received the mass appeal. The issue lies with what marketing involves as a profession. Since marketing has been an indispensable part of any business for some time now, changing something that few would agree is broken isn't easy. Trying to change the entire way a department has worked for ages is bound to create some form of resistance. The organizations that have thoroughly implemented the agile methodology for marketing are duly reaping its benefits.
Characteristics of Agile Marketing
Teamwork and Collaboration - A strong foundation for agile marketing starts with teams that understand and embrace agile ways of working in a holistic manner. A free, collaborative spirit should replace the need for organizations to work in silos. All team members must feel included in any given project. Frequent meetings and communication channels can be used to motivate employees to collaborate effectively.
Informed Decision Making – Marketers that employ a data-driven approach to their campaigns can expect stronger, measurable results. Teams driven by agility rely on data more heavily than the ones that don't. The iterative approach of Agile implies that there's constant experimentation to find new ways to boost team performance and gain actionable insights. As there is clear visibility into how the department is functioning, leaders can track progress every step of the way and make better decisions.
Iterative Process - Agile marketing teams often conduct sprints to complete a specific, predetermined amount of work. Sprint cycles allow teams to take up small bits of work that can be further developed to produce iterative releases of the same. Sprints offer teams the opportunity to revisit and if needed rehash their plan of action as and when they need to because of the short duration of work.
Following the Agile Marketing Manifesto – Agile marketing teams stick to the values and principles prescribed under the Agile Marketing Manifesto. This methodology is crucial when teams are aiming to achieve marketing agility. These values and principles underline all the practices that a team must employ to improve efficiencies, such as standups, sprints, and Kanban boards.
Agile Marketing Frameworks
There are several agile marketing frameworks in place that are designed to help marketing teams derive maximum value from their projects. Although there are specific frameworks that can be implemented, a hybrid model comprising of the best of all methods is what's generally favoured by marketers. Let's take a look at each model:
Scrum
The original methodology for Agile software development is Scrum. It's designed to create a culture of accountability, transparency, adaptation, and most importantly, prioritization. Ceremonies and roles are the two main components of Scrum.
The four ceremonies of Scrum are as follows:
Sprint planning
Daily scrum (also known as daily standup)
Sprint review
Sprint retrospective
Team leads are generally designated as the Scrum Master. They play an important role in Scrum implementation, process management, and clearing up backlogs.
Kanban
The visual nature of Kanban attracted the attention of marketers from the very beginning. It requires marketing teams to visualize their tasks at every stage of the project and every work item that passes through it. Marketing teams can manage their processes better, control the number of projects they're working on at once, and boost organizational efficiency.
The core principles of Kanban are as follows:
Visualize workflows
Limit work-in-progress
Manage flow
Make process policies explicit
Establish feedback loops
Continuous improvement
Scrumban
Scrumban is a hybrid between Kanban and Scrum methodologies. It is a highly popular agile framework among marketers due to its high potential for customization. Scrumban is suitable for teams that are already familiar with Agile. It combines the structural approach of Scrum along with the visualization approach of Kanban. Since it's a hybrid approach, the implementation of Scrumban varies from team to team.
Should I Implement Agile marketing?
Agile is quickly becoming the new norm for marketers to go about their business. Although the Agile Marketing Manifesto was formulated over a decade ago, experts have made solid progress towards adapting its essence to meet the needs of modern marketing.
Agile marketing management teams focus on frequent campaign releases, emphasize experimentation, and are extremely customer-centric. The benefits that agile marketing can bring to an organization easily outweigh the challenges of its implementation. Teams quickly begin to reap the advantages of efficiency and productivity, transparency, and flexibility.
Although it's easy to be overwhelmed by the technicalities of Agile adoption, rushing to make it work doesn't make it any easier. Agile needs to be adopted systematically, and its effects need to be monitored across all levels of the organization. It's all about trimming the fat and having one thought at a time. Agile is a marathon, and it typically takes enterprises some time to figure out how to adapt its practices.
Jile helps you by combining the best of what each Agile framework prescribes to extract maximum value from your marketing projects. We aim to help organizations align strategy with execution by providing a host of agile marketing tools to help teams collaborate effectively and drive overall business growth.
Thanks for subscribing to our latest blogs, thought leadership and other product updates!
Like what you read? Subscribe to the latest blogs, whitepapers, articles and many more!
Read our Privacy Policy to know more. You can opt-out of all communications anytime.